Post by Quan-Li on Aug 18, 2020 20:41:17 GMT -6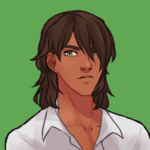 This clearing would have to work for the night. He wasn't sure where he was headed exactly now that he had left home, but Quan-Li knew he had made the right decision in leaving. He could find the bandits that had killed his parents, but he wasn't one for revenge. Maybe Ba Sing Se.... refugees headed there, though he really wasn't one. He had a home, his village was still there, it just wasn't home anymore. Setting down his pack, he went about gathering firewood and making a fire. It wasn't much, but it would have to do for tonight. He put the fish he had caught from the nearby river on a stick and set it over the fire to took. In the meantime, he ate some of the nuts and berries he had gotten from the nearby town.

Quan-Li knew that he would find some town to stay in, that he would know it when he came across it. Maybe he would go to Ba Sing Se. He was sure there was always something to do there. It wasn't as if he really needed a Master - he was probably about as good as he'd ever be. Maybe he could teach... he wasn't sure how good of a teacher he'd be, but at least Earthbending was something he was good at.

He would find his place some day. In the meantime, he would keep going.