Post by Ezai on Aug 22, 2020 21:26:55 GMT -6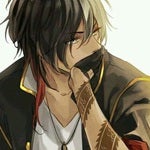 Ezai was often accused of being a difficult person to drag out of the house. It made socializing with him difficult at times. Most of his socialization occurred through friends in the military and only while on duty. The young man didn't necessarily enjoy staying in doors all day, but he found it difficult to put himself in a vulnerable situation. He didn't trust people easily. Meeting new people had mostly only ever been a business matter for him due to his family's estate and his side job as an instructor. While on guard duty, Ezai was typically a whole other person.

Today was one of those days where Ezai, despite his efforts, just couldn't keep himself locked away. There was a small festival making its way through the Fire Nation. Bright red peddles were being thrown in the streets by women in colorful kimonos. No one danced or sang, but the crowd ogled at the grace and beauty of the women. Shop owners took their chance to display their goods and the smell of street food filled the air with mouth watering aromas. The city was bustling much more than usual.

Ezai, on the other hand, stood still and quiet. He leaned against a wooden post that stood outside a small tea shop. The smell soothed him as he watched the flowers rise and fall. It was as beautiful to Ezai as it was ominous. The young man pushed off from the post, straightening himself as he rolled his left sleeve down, covering the dragon crest tattooed into his skin.

Amber eyes watched as three children ran around. If one looked hard enough they would have seen a small smile appear on his face. Ezai wiped it away immediately. The children laughed as they played. Their movements were chaotic and haphazard in such a crowd. If they kept on running around like this they'd run into someone eventually.